**  Additional updates related to COVID-19 can be found on our district website here.  
Framework for Enhancing Student Learning (FESL)
Public Education Report for the 2020-2021 School Year
(pdf version here or on-screen version below)
"Take 3"
Bert Bowes Middle School
"Spirit Friday!" welcomed students to a new school year.  Leadership students ran the event in the gym.  Teachers were digging through a pudding pie to retrieve gum balls using only their mouths … it got a little messy.  Mr. Sloan managed to 'pie' Mr. White during the conclusion of the event.
New face of our campus – our Outdoor Playground, which includes swings and a climbing web.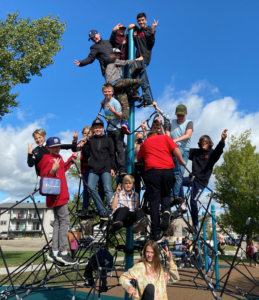 New face of our campus – our indoor Activity Trails for brain breaks and engagement.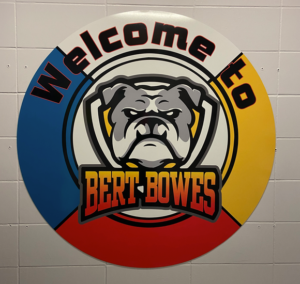 (Jason Gill, Principal)
Duncan Cran Elementary
As part of our APPLE Schools initiative, Duncan Cran Elementary received a grant for fruit trees and bushes.  We were so excited to receive 14 apple trees and 25 raspberry and saskatoon bushes.  We have a team of students helping take care of our newly planted trees and bushes.
Mrs. Flesjer, our APPLE Schools coordinator, is watering the trees with some of our students.
(Janny Lavoie, Vice-Principal)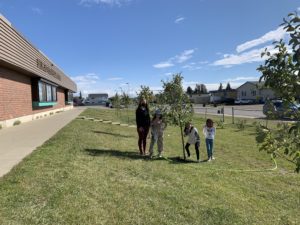 District Administration
Annually in late-August, all of our Principals, Vice-Principals and District Leaders get together for two full days of planning for the upcoming school year.  This year our meetings were held in the Heather Hannaford Arts Space at Anne Roberts Young Elementary.