**  Additional updates related to COVID-19 can be found on our district website here.  
As part of the updated guidelines and safety measures, School District 60 has been asked to lead a Rapid Response Team for both preventative and responsive measures when there is a significant outbreak event.  We will be working closely with Northern Health, the Ministry of Education and other northern districts in this regard.  More details to come in early March.
Playgrounds in the North are for moose too!
This photo was taken by Upper Pine Elem-Jr Secondary School principal, Melody Braun, looking out her office window.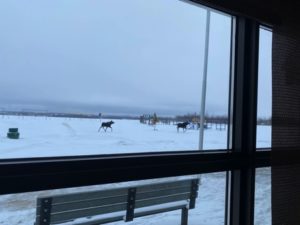 Framework for Enhancing Student Learning (FESL)
Intellectual Development
CURRICULUM
District Reading Assessments
Development of new reading assessments continues as we look at the Kamloops District version.  This will be for grades 4-9 and will provide a Fall, mid-year, and end of year package.  The content of the reading passages is more relevant – including tie-ins with Indigenous culture.  Our District Principal Charmaine Chrétien will be getting feedback from the field and calibrating the assessments.   
District Numeracy
Implementation of the Mathematics Assessment and Practice (MAP) tool continues with rubrics and coding being developed in collaboration with teams of teachers

District numeracy assessment updates:

Grades 3-5 drafts will be completed by end of April 2021

Grades 6-9 drafts will be the focus for May/June 2021

Looking at including data collection in grades 3, 6 & 9 with other grade spans available for teachers/schools

Mathletics inservices:    April inservices up and coming throughout the month for LATs, Middle schools (7-9) and other folks who want inservice support in other grade spans outside of the district license

Learning Resources for Black History Month HERE
SCIENCE FAIR 2021 !

This year, the fair will be held virtually.  Information is available on the Regional Committee's website here.
Monday, March 29 – Thursday, April 1, 2021
The Science Fair is an opportunity for students to demonstrate their knowledge of the Scientific Method as well as hone their presentation skills.  It does not replace the Science curriculum and assessment, but is rather an enrichment opportunity for students in grades 4-12.
Human & Social Development
Black History Month – February
Art Activity at Margaret 'Ma' Murray Community School
LEA Workshops in Schools
Presentations and workshops continue to be carried out with school staffs around the District.  These sessions on Local Education Agreements (LEAs) help create connections/collaborative conversations around Indigenous students with school communities.
Career & Skill Development
Online Production Assistant Training
Applicants need to be at least 15 years old and have a social insurance number.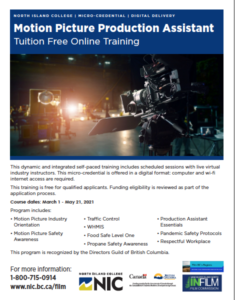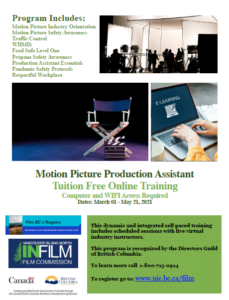 Women in Trades event at Dr. Kearney
Dr. Kearney hosted a Women in Trades event on February 12th.  Today, the door is open to women in every BC trades career.  You've got great trade career choices — from carpentry and plumbing to aerospace and horticulture.  Women are finding challenges, job satisfaction and good pay in the skilled trades.
Mr. Campbell – District Principal Careers/International
The students from Dr. Kearney connected virtually with:
Lisa Langevin – Director, Equity & Engagement
Lisa Ayton – Program Leads
Elaine Allan – Executive Director, Skills Canada BC
Michelle Skelly – Program Director, Skills Canada BC
James Maxwell – Coordinator, Skills Canada BC
Careers / SWIS / ISP – Monthly Newsletter — FEBRUARY 2021
Operations / HR
Workforce Reports for January  – attached to the public agenda – covers the period from January 11th – February 1st.
Safety Website on SharePoint for Staff
This site is in development and should be available by Spring Break.  It will capture all the information related to Health & Safety as well as processes and links for reporting injuries, etc.
Weekly Updates from Technology Services — for staff — available here.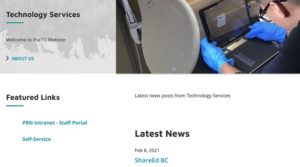 Truth & Reconciliation
Equity Scan
With the complexities associated with COVID-19 (and navigating in-person meetings), Equity Scan has been in a holding pattern.  In conversation with the Ministry and other districts who are further along in the Equity Scan process, a recurring theme is that in-person dialogue is at the heart of the process (as opposed to just sending out surveys and focus questions).
For now, staff are working on a learning series for our leadership group and will be bringing together the working committee after Spring Break to put together plans and timelines when in-person gatherings are possible.
Support to Indigenous Students and Families
As part of the Federal Funds and subsequent mandate, we have hired additional teacher staffing to help provide instruction and support to students and their families who are not attending regularly.  This is done in collaboration with the home school.
"Take 3"
Prespatou Elem-Jr Secondary School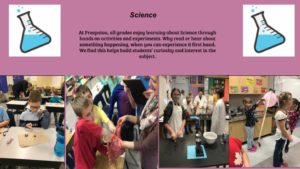 Taylor Elementary School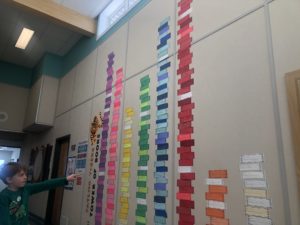 We are having a most successful Reading Challenge event called a Tower of Books.  Students walking by are always commenting on how well their class is doing.  One class is almost 100% weekly for their at-home reading goal and others are not far behind!  With a week to go in the challenge, we are running out of room!
C.M. FINCH ELEMENTARY SCHOOL
Grade 6 students have been working on STEM projects in February.  This was completed as a class challenge to create an environmentally friendly habitat that is sustainable now and into the future using tools and materials from our MakerSpace.