Framework for Enhancing Student Learning (FESL)
** click here to see the full Framework Plan
"Take 3"
Robert Ogilvie Elementary
Camp Cameron Field Trip – Mrs. Gauthier's grade 3/4 class and Mr. Hetherington's grade 5/6 class spent a couple of days at our district's Outdoor Education Center.
They had a wonderful experience with team building, outdoor recreation and learning activities.
Thank you to SD60, the bus driver, the teachers and the parent volunteers.  The students will remember this experience for years to come.
Jerelyn Orcutt, Principal, Robert Ogilvie Elementary
Duncan Cran Elementary 
Our students are participating in two (2) weeks of Arctic Winter Games.
The Arctic Winter Games promote an atmosphere of social interaction that 
enhances self-esteem, as well as strengthening cultural awareness and understanding,
Classes participating in this event learn some of the history of the Arctic Winter Games and how these activities led to cultural and social interaction between the Indigenous people over time.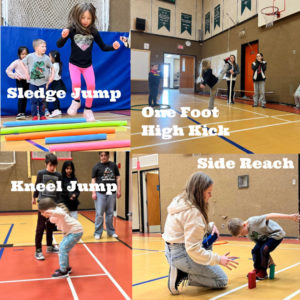 There are four (4) events that the students compete in as demonstrated above:    Kneel Jump, One Foot High Kick, Side Reach and Sledge Jump.
Griff Peet, Principal, Duncan Cran Elementary
Taylor Elementary 
How many hours are 79,704 minutes?  That is how many hours ourTaylor Tigers read at home in the month of February!
Congrats to all of our Taylor Tigers who participated in the Reading Challenge!   We had 90% student participation.
The winning class was Ms. Beaudoin's class.  Check out some photos below of the top readers from each class.
Thank you to Mrs. Frankham for organizing and thank you to all the families for supporting this challenge!
Nancy Maxfield, Principal, Taylor Elementary