**  Additional updates related to COVID-19 can be found on our district website.  
The video of Anne Roberts Young Elementary School Grand Opening has now been posted on the school's website.
Framework for Enhancing Student Learning (FESL)
Intellectual Development
LEARNING SUPPORT MODEL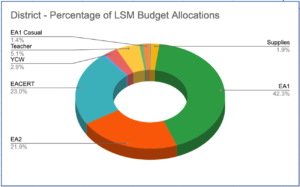 vast majority of spending allocated to Education Assistant support
addition of teacher time as a support – this could be additional Learning Assistance time, a behaviour teacher, counselling time, etc.
addition of other support staff, such as a Youth Care Worker
additional support in the form of collaboration time and professional development for teachers
a model that is responsive to the emerging needs of the class and school-based on class reviews
individual needs are looked at through the lens of the entire class
a creative approach to supporting the learning environment for all students continues to develop and we are seeing more creativity in how school-based teams address student needs
POPEY Workshops for Teachers
P
reschool
O
utreach
P
rogram for the
E
arly
Y
ears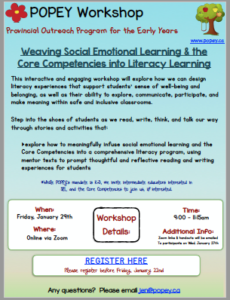 POPEY Flyer – AfterSchool Workshops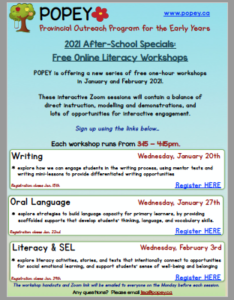 Human & Social Development
CommunityLink
CommunityLINK (Learning Includes Nutrition and Knowledge) is funding given to boards of education by the BC provincial government.  The intent of CommunityLINK funding is to support programs and initiatives that improve academic and social emotional outcomes for vulnerable students. 
The expectation is that school districts will use the funds to achieve the following:
Target and create programs, in collaboration with families, communities and service providers, designed specifically to support the needs of vulnerable students
SD 60 CommunityLINK Initiatives:
School Breakfast and Lunch Programs  

Healthy Lifestyle Programing

Social Emotional Learning (SEL)

Year long Parenting Series (offered monthly via district counsellors)

SEL Support Teachers

Youth Care Workers

Nations (Indigenous Youth Leadership/Empowerment Outreach Program )

Students In Harmony (music as a space for social emotional Learning) 

Staff Development/Resources

Academic 

Teacher Collaboration Time

EA Support

Staff Development/Resources
Christmas Cards for Canadian Soldiers
Major Ryan Salsbury, from the 3rd Battalion of The Royal Canadian Regiment out of Petawawa, joined the Margaret 'Ma' Murray Community School for a virtual assembly on January 11th.  He had received Christmas cards from the students over the holidays and greatly appreciated this.  He gave a terrific presentation on the work he is doing overseas with the United Nations and how Canada is making a difference.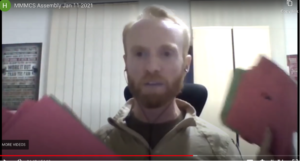 Career & Skill Development
VIRTUAL MONEY FAIR for Students in Grades 4-8
Schools have been sent information on a Virtual Money Fair that involves students, either learning at home or in the classroom, selecting a money topic that is of interest to them, undertaking research to explore and learn about that topic, and then preparing a creative and engaging video presentation that showcases the outcome of their research and what they learned.  CFEE will be getting submissions from across the entire country, posting them on the secure CFEE website and then highlighting the winner announced at the National Money Fair.
A team of judges will review all the submissions to identify the beset.  The top presentations will win $2000 for first prize, $1000 for second prize and $500 for third prize.  Winners will be announced at the Annual National Money Fair (virtual this year) on April 14, 2021.  This contest is limited to students ages 9-14 or grade 4-8.  A participant can only enter into one CFEE contest within a given year.  A Money Fair should be a fun, interesting, and engaging activity for students at home or at school – at the same time as they learn about money and improve their financial literacy and capability.
Support materials and additional information can be found here:  Talk with our Kids About Money
The information can also be found in French here:  French:  Talk with our Kids About Money
Virtual Money Fair Flyer 2020-21
WORLD OF CHOICES – January 26 & 28
Designed for Grades 6-12, World of Choices is a mentorship program aimed to support students in their journey to explore and refine their career goals.  This JA program will put students face to face with a diverse and inspiring group of professionals from around B.C.  Provided free of charge, JABC will oversee all coordination and provide optional online activities where students can further explore career clusters.  To enrol and for more details, see the attached JABC World of Choices – January 2021 Invitation flyer or visit jabc.ca/woc.
JABC TechWorks – March 2 & May 12
Designed for Grades 8-12, JABC TechWorks will expose high school students to the career opportunities that exist in B.C.'s dynamic tech sector, the skills and education required for tech jobs of the future.  JABC TechWorks features a live virtual event (four dates & times), plus access to an exciting video library featuring conversations and activities facilitated by B.C. tech leaders and tech-enabled companies.  Optional classroom resources and interactive activities also provided.  This complete JA program is provided free of charge!  To enrol, see the attached JABC TechWorks – March and May 2021Invitation flyer and for full details on the history of JABC TechWorks, please visit website techworks.jabc.ca.
Operations / HR
Update on COVID-19 cleaning products and protocols

– Questions from the Public
All SDS sheets for the cleaning products we use have been reviewed and are approved by both WorkSafe BC and Health Canada.  For all products and processes, SD60 consults with provincial leaders and other districts to ensure we are in compliance with industry standards.
While WorkSafe BC exists for the protection of employees, the Ministry of Education and Public Health Office guidelines are for the protection of students as well.
Personal hygiene, starting with handwashing, is part of the COVID-19 guidelines across the district and province.
When any student health issue arises at school, parents are notified and they take the lead with any subsequent steps and decisions.  In case of emergency, schools call 911.
Workplace conduct of employees is addressed by a number of policies and standards, including Policy 2006 (Discrimination, Bullying, Assault and Harassment), Policy 4018 (Prevention of Harassment in the Workplace), as well as the Professional Standards for BC Educators.
TRB:  Enhancement Project for Teacher Certification
The enhancement project will go for approximately 1 year with 4 main goals:
Improve Service Delivery
Enhance Technology
Consider Staff Resources (how best to place staff)
Develop Workplace Culture
In order to achieve this, they are doing the following:
Streamlined Application Process (eliminating unnecessary document requests, removing duplication of information, accepting documents via online upload and emails)
Refresh TRB Website (this has been done) – easier to navigate to find information
Enhancement to ease of use for applicants accounts (i.e. upload documents directly to their application, can print digital copy of Certificate as paper one will not be mailed anymore, will be able to update their personal information via their account instead of having to call them to update)
Digitization of Operations
They have also created videos to help people with current pressure points (creating a BCeID, checking on status of application).  They will be holding virtual information sessions at BC Universities for new grads to explain to them the process of applying for a BC Teaching Certificate.
Website for the TEACHER REGULATION BRANCH
Secretary-Treasurer Announcement
Truth & Reconciliation
Backgrounder #8 Indian Reserves
"Take 3"
École Central Elementary School of the Arts
Sophie Zaldy (grade 6) entered the 2020 National Forest Week Artwork and Photography Contest and she won a $100 cash prize for her entry of a river cascading down a mountain.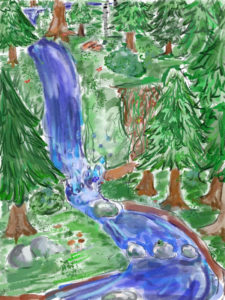 Anne Roberts Young Elementary School
Sharing their 2020 Christmas Concert with everyone … https://youtu.be/8INUHuR5hk4
District Band Program
Grade 8/9 Concert Band – Christmas Performance
Grade 7 Band – Christmas Performance
Santa Visit
Santa helped deliver a hamper to the Women's Resource Center, as well as delivering cards made by students to Peace Villa, NP Senior's Housing and Abbyfield.