Framework for Enhancing Student Learning (FESL)
** click here to see the full Framework Plan
Intellectual Development
Indigenous Learning Day:   
May 6, 2022
Organizing Committee
Indigenous Education Department:     Pat Jansen
District Principal – Curriculum & Assessment:     Charmaine Chrétien 
PRNTA:     Michele Wiebe, Josie Gauthier, Mary Tremain, Jessica Dmytruk
Teacher / Logistics:     Chris Neufeldt
Doig River First Nations:     Teresa Thielen, Verena Hofmann
FSJ Metis Society:     Jacqueline Alderking
Blueberry River First Nations:     Keri Taylor
Halfway River First Nation:     Joyce Audit, Kim Field
CUPE:     Haley Irwin
Human & Social Development
Social & Emotional (SEL) teamwork around the District
Several teams came together last week to share their learnings, successes and challenges from the current year.  All schools have an SEL lead as well as a team (including the administration) who work on educational and social activities to promote positive school environments.  They are supported by District staff and meet regularly through the year.
Career & Skill Development
Operations / HR
Still several unfilled positions for next year – including some regular classroom positions as well as French Immersion and non-enrolling support positions

Follow-up is taking place with Make-A-Future services to enhance marketing of positions

Major success in hiring a school psychologist for next year

The current Vice-Principal vacancy at CM Finch Elementary will be filled this week.  This vacancy came as a result of retirements and the following administration changes:
Jerelyn Orcutt – moving to principalship at Robert Ogilvie Elementary School
Melody Braun – moving to principalship at Alwin Holland Elementary School
Palma Vasarhelyi – moving to principalship of Upper Pine Elem-Jr Secondary School
Truth & Reconciliation
New Grad Requirement:  4 credits Indigenous-Focused Course:
NPSS:  At North Peace Secondary, School District No. 60, we offer two ministry courses and three BAA courses. At this time they are not mandatory in our school, but the ministry courses meet the requirements for core courses. 
MEFLS11-001 – EFP LITERARY STUDIES AND WRITING 11

MENFP12-001 – ENGLISH FIRST PEOPLES 12  

YAES-0A-001S2 – ABORIGINAL CULTURAL: LEARNING FROM THE ELDERS 10

YAES-1A-001S2 – ABORIGINAL CULTURE: LEARNING FROM THE ELDERS 11  

YAES-2A-001S2 – ABORIGINAL CULTURE: LEARNING FROM THE ELDERS 12
For our 2022-23 school year, we will be enrolling all grade 11 students in English First People's 11. (EFP-11) This will help ensure that all current grade 10 students and future students meet the NEW grad requirements starting 2023-24 year.   We will be scheduling this way until we are confident that we can have offerings for students in all grades and can meet the challenges with tracking and scheduling.
Key Learning Center:   We currently have on offer English First Peoples 12 and BC First Peoples (SS) 12 as courses available to students.   We are monitoring students who intend to graduate with us at KLC to ensure that appropriate communication has taken place with them to explain the new requirements and to ensure appropriate course selection to ensure graduation requirements are met.   As the vast majority of our students only cross-enroll with us for a few specific courses we will ensure that the new Indigenous graduation requirements are posted on our website, Moodle/D2L sites and are a part of our enrollment conversation but graduation requirement verification will remain primarily with their home-school.
Hudson's Hope:  We will be providing one of BC First Peoples 12, or Contemporary Indigenous Studies 12 as a required Social Studies course.   Grade 12's will be required to take one of these courses, if they don't already meet the requirements.  It will be open to grade 11/12's (possibly grade 10's).
We will be providing the "most popular" elective between EFP: Literary Studies + New Media 11, EFP: Literary Studies + Spoken Language 11, or EFP: Literary Studies + Writing 11.   The course will be offered to all of our grade 10-12's to help students meet requirements "earlier".
We are exploring offering English First Peoples 12, but are still working on our timetable.  This course would likely be offered to our grade 10-12's as well.
"Take 3"
Duncan Cran Elementary
Our new Reading Program has been a great success!  We have more confident readers and are building new friendships around the school.  This daily program takes place in our newly furnished library!  Our students enjoy the flexible seating and comfortable feel of this space.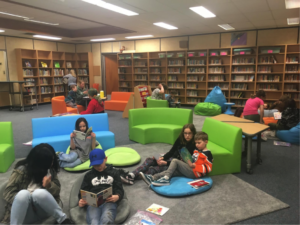 On May 4, the grade 5-6 students completed the Spaghetti Bridge Building Competition.  In groups of 2-3 students, they designed a bridge in class and planned out the build.  The students worked in the gym to assemble their plan, modify the physical bridge in efforts to support the 1lb weight for 1 minute.
Griff Peet, Principal, Duncan Cran Elementary
Margaret 'Ma' Murray Community School
Grade 1/2 students have been working together on a science unit on living things (Mrs. Fehr, Mrs. Powers & Miss Jesperson's classes) where the focus has been on gardens and polinators.  One of the projects was for the students to take their knowledge and plant mini-greenhouses out of recycled materials.  Students had to drill holes for drainage, fill with soil, plant seeds and bulbs and monitor their greenhouse for temperature and moisture.  These greenhouses will go home when all the plants are mature enough to plant outside.  They have used onion bulbs, flower and vegetable seeds.  Once the plants are up, students will be creating a trellis from Popsicle sticks to allow their plants to weave around (particularly important for beans and peas).  Students will continue their learning by having a beekeeper come in to present, by learning about mason bees (we have two hourses and the mason bees will be planted there) as well as watering and watching the life cycle of their strawberry bins and tower gardens.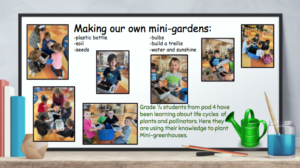 Kathy Scheck, Principal, MMMCS
District Band
Celebrating our District Band's Spring Performance on the evening of Thursday, May 5th …
We had bands compete at both the Peace River North Performing Arts Festival in Fort St John from April 21-24, 2022 and at the Grande Prairie Music Festival as well.  
Beginning Band – four bands and all won Gold & one of the bands also won 1st Place Overall
Grade 7 Band – Gold
Grade 8/9 Concert Band – Gold plus 1st Place Overall
Senior Band – Gold plus 1st Place Overall
Junior Jazz Band – Silver
Senior Jazz Band – Gold plus 1st Place Overall
Our district bands all did well this year! 
Sandra Gunn, District Band Coordinator